New Financing Solution to Secure Double the Funding Amounts The Best Performance Advance Funding Loan Servicing-Based Financing Solution on the Market Larger Amounts, No Set Daily Payments or Personal Guarantees.
What Do You Need to Qualify?
3+ Months in Business
Get funding whether you just opened your doors or have been around for years!
Qualify for Larger Amounts
Receive higher funding amounts based entirely on your day-to-day sales.
No Minimum FICO Score
Access funding right away, with no minimum required FICO score.
What is the Performance Advance™ Financing Solution?
The Performance Advance™ was created to break down lending barriers and help business owners qualify for higher funding amounts. If you want to secure double the normal funding amount and avoid set daily payments, then the Performance Advance™ financing solution is the right choice for you!
What Are The Benefits?
Double Funding Amounts
Secure larger capital amounts to grow your business how you want to!
Make Payments As You Get Paid
Pay based on your business's performance— no set daily schedule.
No Personal Guarantees /Collateral
Receive capital for growth without signing away personal assets or guarantees!
No Minimum FICO Score
Qualify no matter what your credit looks like, or how old your business is!
We've Secured Over $1 Billion in Funding Through Our Exclusive Marketplace
Breaking Down Lending Barriers
No repayment terms. No personal guarantees. Just the funding your business deserves.
Learn how you can qualify for financing based only on your business's performance!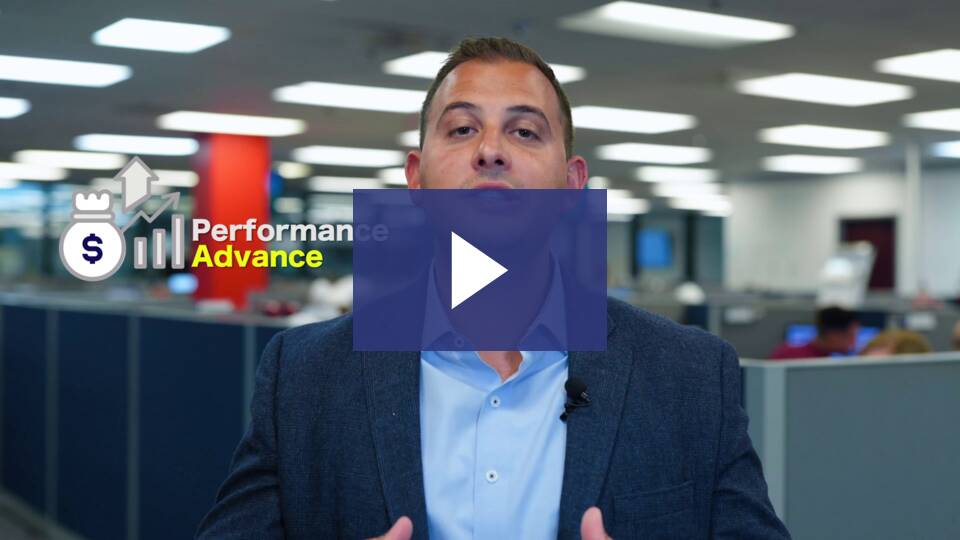 Unlock Higher Amounts & Better Payment Structure
Larger Capital Amounts
Double the Normal Offer
Repay As You Get Paid
No Set Daily Payments
Get Funded in 24 Hours
Qualify in Minutes
How Can You Use a Performance Advance™?
There are no restrictions—use your capital to pursue any opportunity or overcome any challenge!
Business Growth
Buy new equipment or inventory, hire new staff, or prepare for seasonal changes.
Business Expenses
Get extra working capital to manage payroll, bridge gaps in cash flow, or pay bills.
Business Opportunities
Expand or open a second location, take on more clients, or capitalize on bulk order discounts.