Access cash on-hand, whenever you need it Business Line of Credit with Larger Credit Lines, Lower Rates, Faster, Easier Process. Make Quick, Sudden Purchases, Only Pay for What You Use.
Apply Now
Revolving Line of Credit
Unlike small business loans, revolving lines of credit allow you to continue accessing additional funds as you pay your balance down and require more cash. Some business lines of credit are revolving, while others aren't. When you discuss the terms of your agreement, be sure to ask questions and confirm whether or not your line of credit is revolving. Revolving lines of credit are the fastest and easiest way to access additional cash as your business grows. Once you pay down part of the balance, you can draw more cash without reapplying. It's simple, fast, and easy, and your working capital won't be limited to your checking account.
For example, say you qualify for a $100,000 line of credit. You borrow the full $100,000, and use the cash to grow your business. You then pay down $50,000 using the revenue you generate, putting both your balance and credit limit at $50,000. With $50,000 paid down, you now have the option to borrow an additional $50,000. There's no set end date, either. As long as you keep your credit line active, or continue drawing and paying it down, you can utilize an LOC for months, or even years. If you're not actively using it, though, your small business line may expire.
What Is a Business Line of Credit?
A business line of credit gives you access to cash whenever you need it and is an extremely flexible financing option. This type of loan allows you to draw cash from your credit limit as you need it, and only pay interest on what you use. With revolving lines of credit, more cash will become available as you pay it down. Unlike selling equity, getting a small business loan allows you to maintain business ownership, profits and full control. Business lines of credit are the perfect financing tool when your business is in growth mode and you need access to funds. You can also use it to bridge cash flow gaps during seasonal slumps, or as a rainy day fund. There are no restrictions on how you can use it—you can use a business line of credit to cover any costs or opportunities you face.
What Do You Need to Qualify?
1+ Years in Business
We fund all businesses, from growing startups, to local giants, and everything in between.
$120,000 in Annual Gross Sales
Whether you do $300K or $12 million in a year, we have your back!
No Minimum Credit Score
You don't need squeaky-clean credit to qualify—we have options for all credit profiles.
What Are The Benefits?
TRUE Line of Credit
Get cash on hand, and draw more whenever you need it.
Pay As You Go
Never over-borrow — only pay for what you take.
Immediate Access
Seize new opportunities or cover expenses now.
We've Secured Over $1 Billion in Funding Through Our Exclusive Marketplace
Get Cash On-Hand, Whenever You Need It
Don't risk your real estate if you don't have to. Learn how you can access an
unsecured line of credit to grow your business—without putting up collateral!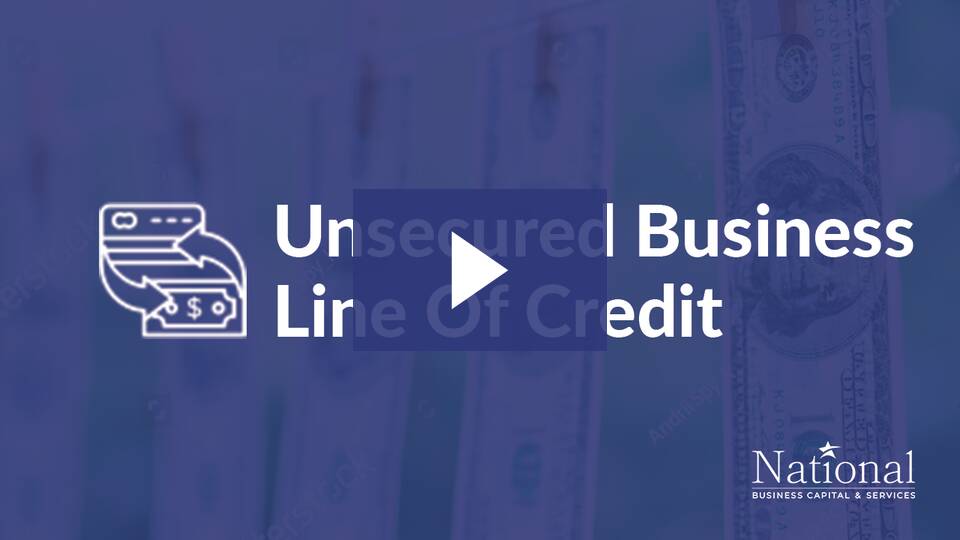 Unsecured Business Line of Credit – Product Video
Unlock the Lowest Rates, Longest Terms and Highest Amounts
Line Amount
$10,000 – $5Mil
Flexible Terms
6 Months – 10 Years
Time to Fund
1 – 3 Days
How Can You Use Your Business Line of Credit?
There are no restrictions—use your capital to pursue any opportunity or overcome any challenge!
Business Growth
Buy new equipment or inventory, hire new staff, or prepare for seasonal changes.
Business Expenses
Get extra working capital to manage payroll, bridge gaps in cash flow, or pay bills.
Business Opportunities
Expand or open a second location, take on more clients, or capitalize on bulk order discounts.